Executive Overview on Knowledge Capture

Daniel Gorin, CEO of phase-6
As the CEO of phase-6 Daniel Gorin's goal is to create the most effective and user-friendly vocabulary learning and language acquisition software in the world. This involves bringing together a number of disciplines, traditional sciences, computing linguistics, language arts, technologies and education practices.

Daniel's Brain provides a conceptual framework for everything he needs to do and the knowledge he needs to manage. TheBrain helps Daniel link everything together as well as specify the kind of connection each link represents with his extensive list of Link Types.
Next Week: Summer Gardening In Your Brain

TheBrain 202
Editing and Evolving Your Brain

Wednesday, August 28, 2013


11:00 am Pacific Time / 2:00 pm Eastern Time
Change can be a beautiful and necessary inevitability for all of us, even our Brains! TheBrain includes powerful authoring and editing tools that make changing your Brain easy. This webinar is designed for users who have created a basic Brain but now need to change their Thought structure or evolve their original Brain.
Learn how to garden your Thoughts and easily edit your Brain
.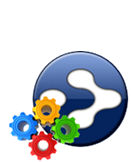 This session will cover:
Identifying when it's time to further subcategorize and create new parent Thoughts
Changing Thought Relationships
Creating subcategories and intervening Thoughts
Mass linking, unlinking, forgetting and deleting Thoughts
Copying and Pasting Thoughts
Working with multiple Brains
Creating specific Thought names and Thought lineage
Adding icons and Thought Types for additional context
On Demand Recording Now Available

Join a Brain Expert Online Twice a Week!

Join our Web classes and learn key features. Ask questions and get your answer demonstrated by our Brain experts. All webinars feature streaming audio so you can listen from your computer and pop in and out at anytime!